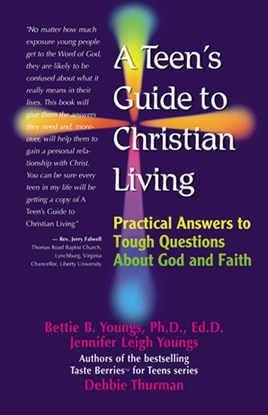 Coming June 2003 from Faith Communications, an imprint of Health Communications, Inc.


A Teen's Guide to Christian Living:
Practical Answers to Tough Questions about God and Faith

By Bettie B. Youngs, Ph.D., Ed.D.
Jennifer Leigh Youngs
Debbie Thurman

As teens grapple with life's difficult challenges, many want to look to God for answers, but don't know how. This comprehensive, teen-friendly source will encourage, enlighten and point them toward their loving Heavenly Father.

A Teen's Guide to Christian Living takes a biblical look at real faith in a real God and how it sustains the younger believer through the ups and downs of life. Whether you are a teenager dealing with the pain and fear of divorced parents, broken or abusive relationships, serious illness, life-changing choices or simply with the pressures of everyday living, you will find in these pages comfort, encouragement, direction and an anchor to keep you on solid ground. A special section of stories written by teens will encourage, inspire and strengthen teen readers.
---
"No matter how much exposure young people get to the Word of God, they are likely to be confused about what it really means in their lives. This book will give them the answers they need and, moreover, will help them to gain a personal relationship with Christ. I assure you every teen in my life will be getting a copy of A Teen's Guide to Christian Living."

Rev. Jerry Falwell
Pastor, Thomas Road Baptist Church, Lynchburg, Virginia
Chancellor, Liberty University

---
"Young people are looking for answers, and this book offers many practical ideas for living a Christian life in a secular world. This book will be a high priority for the teens in my life."

Ronald D. Glosser
Vice-Chairman
Guideposts, Inc.
---
"This is a truly excellent book. It has the potential to enrich the lives of all who read it. It can help optimize the spirit of Christ in our lives and can contribute to a vastly better world. It is truly a masterpiece!"

Joe Batten, MC,CPAE Speakers Hall of Fame
Author of The Master Motivator,
The Leadership Principles of Jesus,
Tough- Minded Leadership and many more
---
"In a culture full of negative images and messages that either omit or profane faith, A Teen's Guide to Christian Living provides a positive easy-to-understand response to a smorgasboard of God and faith issues that young people are dealing with. This book will make sense to teenagers"

Dr. Steve Vandegriff
Professor of Youth Ministries
Liberty University
Author, Timeless Youth Ministry
Co-authored it with Dr. Lee Vukich
---
"In my youth ministry, I know firsthand how eager our youth are to find meaning, purpose and the passion of life. A Teen's Guide to Christian Living opens the door to a genuine fellowship with our Heavenly father, and will help teens see that it's what God offers. This book will take their faith to another level, helping them to see and know god as their Father, Healer, Guide, Provider, Teacher, Friend, Comforter Helper, Protector, Shepherd and Deliverer."

Miles McPherson
Senior Pastor, The Rock Church
Founder, Miles Ahead Ministries.